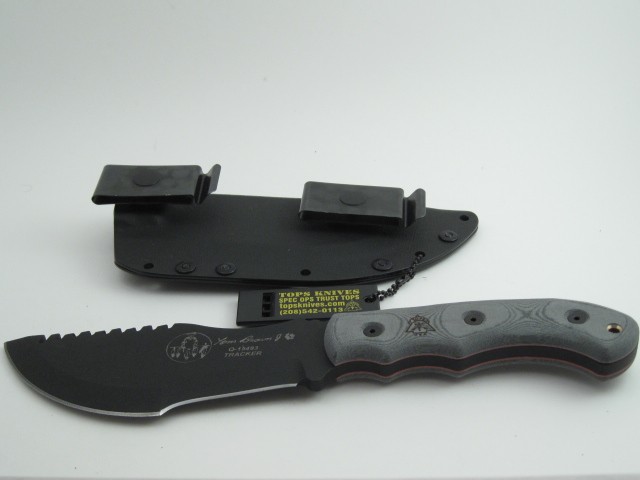 The Tom Brown Tracker Micarta Handle TBT-010 is a survival knife that you can either love or hate. With its unique features, you will either be impressed with its potential or be dismayed with certain tasks that you cannot do with it. For instance, the blade's design is much wider than others.
This means you can do a whole lot more chopping and carving with it, but on the other hand may not be able to do smaller tasks that require a tad more finesse with thinner blades. The Tracker is essentially a great survival knife to have, basically. At the same time, it's cool and manly look will definitely make you want to have it as a part of your collection.
Who is the Product For
The Tom Brown Tracker Micarta Handle TBT-010 Survival Knife is a good investment especially if you are an avid knife collector. It has a blade that can be used for cutting, as well as a saw back that can be used for various projects at home, as well as for outdoor activities like camping.
Main Features
This knife's features are quite impressive. First of all, it has a 4.25 inch blade that is made from high carbon alloy. This simply means that the knife is durable even if it takes tons of abuse.
At the opposite side of the blade, you have the serrated feature which you can use as a saw. It is 2.50 inches in length which is a little over half the overall size of the blade itself. The saw is quite short but even with its length it can cut through wood with ease. If you are trying to start a fire, you can shave magnesium and not have to worry that it might dull the blade.
The material of the handle is made from Micarta and it is very comfortable to use. Handling the knife is easy, even with the wide and thick blade this model is designed with. It also comes with the Kydex sheath as the tracker's carry system which is not that bad either but nothing more special to it other than just being able to house the knife well.
However, the sheath was designed comfortably for people that are right-handed. When you draw the knife and you are left-handed, you might have a hard time doing so and feel a bit awkward. Best of all, the knife is very easy to maintain as it is already very sharp. Little sharpening is required to maintain the blade.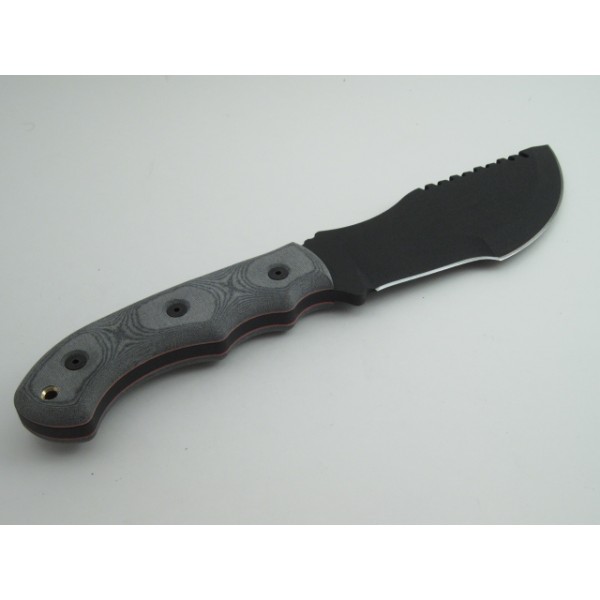 Product Specifications
Blade length: 5.50 inches

Overall length: 11.87 inches

Steel: 1095 High Carbon Alloy RC-58

Weight: 1 lb 12oz

Blade Thickness: ¼ inches

Handle: 7.63 inches Micarta

Sheath: Kydex Sheath

Back saw: 2.50 inches
Product Summary
The Tom Brown Tracker Micarta Handle TBT-010 can be used for several things such as cutting, curving and slicing of different materials. It is durable and sharp making it convenient to use even for a long time. It has a blade and saw part, which are perfect for your specific needs.
Product Pros
The blade is sharp and can effectively cut, slice and curve different materials and even ingredients if cooking. The saw part is also useful when working on tough woods, as well as when starting fire.
Product Cons
Some maintenance is required to keep the blade in tip top shape. For instance, if you are not using it, the blade needs to be oiled or else it has a tendency to oxidize quickly. The coating on the blade will scrape off after some use and although this is perfectly natural, you wouldn't expect this to happen with a survival knife that costs a lot of money.
The tracker is a little bit on the expensive side, and you can consider yourself lucky if you find an online price that is just a little above $200. More often than not, this model is sold for way more than that amount, which is more expensive than other survival knives we may have gotten accustomed to.