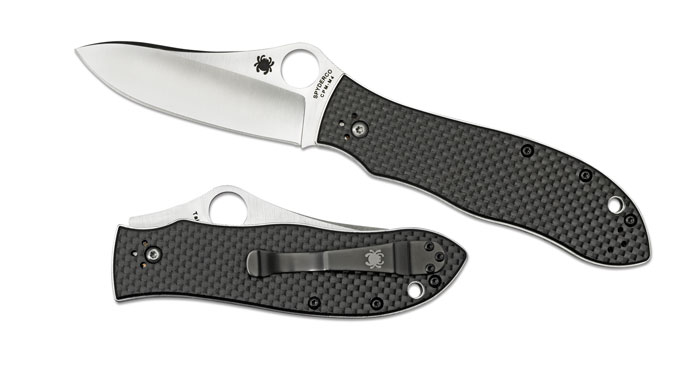 Spyderco is one of the top choices when it comes to reliable high performance knives. The company has introduced a good number of innovative knives with out-of-the-box designs. Gayle Bradley, on the other hand, is a renowned producer of handmade folder and fixed blade knives. He has been making custom knives since 1988. Today, his works are known for durability and fine appearance. With the fusion of Spyderco and Gayle Bradley's expertise in knife making comes the "Spyderco Gayle Bradley Folder Carbon Fiber PlainEdge Knife." This is a knife that can represent the excellence of two leading names in knife making.
Who is This Knife For?
This highly portable fold-able knife is ideal for campers, hunters, fishermen or fishing enthusiasts, hikers, and those who are engaged in small construction or carpentry projects. The knife is versatile enough to serve various functions. It may not be as sturdy and multi-purpose as survival knives but it does a great job being useful for various situations. This foldable knife from Spyderco and Gayle Bradley offers adequate performance in cutting, slicing, probing, and gouging tasks. It is obviously not good in chopping, though, and is unlikely to replace a proper survival knife in the wilderness.
Main Features
Being a fold-able knife, one of the most obvious features of the Spyderco Gayle Bradley Folder Carbon Fiber PlainEdge Knife is its portability. It is very easy to slip it into the pocket or bag to be carried around everywhere. It no longer requires a separate sheath. It is well secured when folded close to prevent accidents. The knife is not very light but its heft is not necessarily a disadvantage. The handle is made of carbon fiber while the folding mechanism makes use of a screw-together construction. The handle also features a 4-way hourglass steel clip and full-length internal liners.
Product Specifications
Total knife length 205 millimeters (8.078 inches)

Length when folded 119 millimeters (4.687 inches)

Total blade length 87 millimeters (3.438 inches)

Length of the sharp cutting portion 81 millimeters (3.188 inches).

Blade thickness 3 millimeters

Blade material CPM-M4 with high grind property

Total knife weight 155 grams or 5.5 ounces.
Product Summary
At an average price of $160, this knife definitely offers great value. The nice design, solid build, and quality materials used couldn't be easily had for such a price. Many would likely consider this knife as one of the better folder knives available on the market. It lives up to the Spyderco brand and Gayle Bradley name. Those who hesitate to get a folder knife for the fear of durability issues can be assured that this knife is solidly built enough. At the least, it should be able to outlast most other folder knives on the market.
The knife's handle that also serves as its sheath has a great and durable design. It exudes a "gentlemanly" appearance and comes with adequate rigidity when folded open or close. The handle is made of twill carbon fiber with a Michael Walker LinerLock to safely and securely close the knife when not in use or when placed inside the pocket. Moreover, the hourglass clip provides a convenient way of wearing or carrying the knife around. It can be clipped tip-up, tip-down, right-handed, or left-handed.
This knife is a quite versatile tool that can be used for various purposes. It is sharp enough to slice or cut things for DIY projects or even for food preparation. It is durable enough to be used in creating or probing holes. It may be quite short but it can also suffice as an immediate self defense tool.
Product Pros
This knife is well built. It is even advertised by Spyderco as a folder knife that has the strength of a fixed blade knife. The material used for the blade and handle are great. Likewise, the folding mechanism is snappy, secure, and reassuringly tight.
Product Cons
This high-performing knife is really a great tool to buy but some may be turned off by the type of material used for the blade. The blade is not made of stainless steel so there is a great possibility of rusting or the development of patina if the knife is not properly maintained. Also, the knife is not weatherproof. It needs to be promptly cleaned and dried if used on wet or moist materials.