The Fallkniven A1L Survival Knife claims to set a new world standard for technical design, economy, and ease of use. This durable knife from Fallkniven complies with and is even touted to surpass standards for strength, personal security, and value. The Fallkniven A1L is a semi-large all-purpose survival knife particularly designed for heavy-duty use. Despite looking plain or minimalistic, it capably does the things expected of a survival knife.
This knife easily does the job of hard chopping with its adequate heaviness. It has the right weight and impressive durability to serve as a reliable chopping knife. Of course, it also performs well as a slicing tool. It may not be the greatest knife for kitchen use but it does well in food preparation. It is built durably enough to resist frequent heavy use. It also offers great ergonomics. Using this knife wouldn't strain the hands even over prolonged periods.
Who Is It For?
The Fallkniven A1L is intended for those who need a durable knife that can be used frequently. It is built to be durable to withstand regular wear and tear for a long time. This knife is not only meant to be kept in an emergency kit. It is also great for daily or regular use. Not only is it durable, it is also ergonomically designed. It can be used by campers and those who are into outdoor adventures. It is likewise a great tool for rescuers. The knife is versatile and durable enough to be used in various settings.
Main Features
This durable survival knife from Fallkniven has a laminated blade made of VG10, a stainless steel with high carbon content. The blade features a modified spear point and has a black CeraCoat 8H coating. It can be considered medium in size with a typical blade thickness at 6 millimeters. It comes with a black checkered Kraton handle that offers a comfortable grip.
The Fallkniven A1L comes with a solidly built black zytel sheath that can be readily worn around the hips, attached to a belt. With the sheath, carrying the knife around shouldn't be a problem. Likewise, storage is conveniently addressed by the free sheath. It is also worth noting that the Fallkniven A1L features a water-repelling design and the notable attribute of being usable in either extreme cold or hot conditions.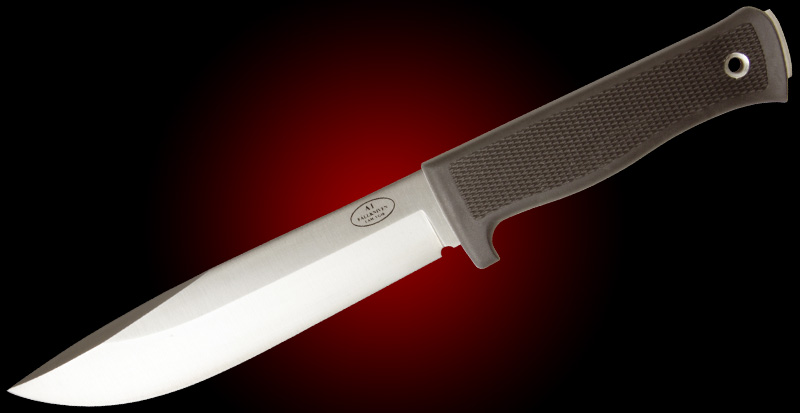 Product Specifications
Overall knife length 280 mm (11 inches)

Blade length 160 mm (6.3 inches)

Blade thickness 6 mm (0.24 inch)

Blade material VG10 steel

Blade laminate/outer cladding 420J

Total knife weight 305 grams or 12 ounces

Blade hardness rating 59 HRC
Fallkniven A1L is a Japan made survival knife with dimensions that are comparable to typical survival knives. It is a full tang knife that looks like a typical survival knife albeit lacking the iconic serrated back that is usually expected from heavy-duty survival knives used in the wilderness.
Product Summary
Using the Fallkniven A1L survival knife is comfortable enough. It has just the right length and weight that can be expected from a survival knife. The 305-gram weight provides just enough reassuring heft so the knife can be used for chopping wood or other not so hard objects. This knife's medium size is just enough for camping activities, hikes, or excursions. The knife's blade features a modified drop point design that seems to enhance tip strength and stabbing ability.
This knife has a blade with a remarkable cutting capability. It is impressively sharp right out of the box. It also stays sharp for a reasonable length of time. Using the knife for batoning or as a hammer to drive nails or install stakes, however, is not advisable. It may hammer nails or stakes but not so reliably. You're better off using a stone for this purpose.
Much of the knife's strength and durability comes from the VG10 laminated steel it is made of. The laminate uses a 420J outer cladding. Moreover, the blade is designed well that it effectively chips through rocks without exhibiting signs of brittleness. It is also an added advantage that the tough blade is quite easy to re-sharpen.
In terms of ergonomics, the Fallkniven A1L is quite easy and comfortable to use. The partially rubbery and high density kraton handle provides reassuring grip. It hardly slips off when used, even when slashing the knife onto shrubs or tall grass. The textured diamond pattern of the handle adds to the tight but comfortable grip of the knife.
Product Pros
Well built, the Fallkniven A1L does well as a survival knife that can also be used for daily activities. Its medium to semi-large size makes it easy to wield. The blade design also seems well thought out. It may not have the weightiness to be a good chopping knife but its ability to chop and chip things is passable enough. The quality and handling of materials used is also commendable. The VG10 steel used does not appear to pose the risk of being brittle.
Product Cons
The disadvantages that can be pointed out in the Fallkniven A1L don't appear too significant. Some may not like the simple design or the lack of the serrated back edge but it's just a matter of preference. Also, issues with build quality may only be attributed to the sheath that comes with the knife. It looks well-built but it does not appear to be the perfect match for the A1L's sturdiness.